The Shop
FROM SMALL BEGINNINGS OUR TACKLE WAREHOUSE WAS BORN
The tackle shop started as a mere couple of shelves in the office of our holiday park, it catered for the needs of a few of our fishing holiday makers and the occasional day ticket fisherman who may have run out of hooks or a bit of bait.
In about 2010 we decided to make it into a shop of its own and be opened The Bait Bucket! It was about 2 meters wide and about 6 meters long and we thought it was great! We attracted a lot of regular custom and found that our holiday makers loved having the extra choice of baits and end tackle, so a couple of years later we expanded once again.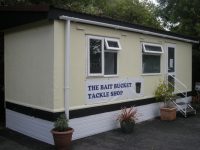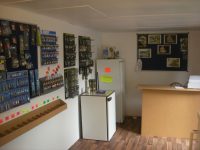 We upgraded our park office unit in 2013 and had it incorporate an area for a 'proper sized' tackle shop. This area was about 500 square foot and stocked masses more than our humble beginnings. We introduced clothing, rods, reels, luggage and expanded our current end tackle and our list of suppliers grew. But something told us it just wasn't enough and to make it worth while we had to create a 'one stop shop', a place where you could go and get everything on your list in one go. To do this we needed space, and space was what we got!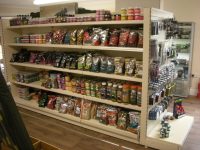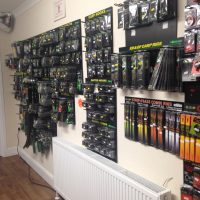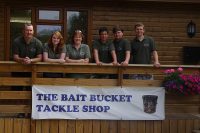 In 2016 took on a run down warehouse building, gave it a face lift and opened the doors to The Bait Bucket Tackle Warehouse, a 3500 square foot fisherman's paradise. We stock over 40 brands, have a bivvy display area and a lot of room for expansion. We aim to cater to everyone's angling needs and price bands but of course we are still growing and learning. In just 6 years we have taken our tackle shop from a few meters of shelf space to a warehouse and we aren't done yet!