Our Store
OUR ONLINE SHOP IS CURRENTLY UNDER WORKS, PLEASE DON'T PLACE ORDERS ONLINE.
Mega 3500 square foot tackle warehouse boasting over 60 leading brands across 20 meters of Bait, 36 meters of end tackle & an ever changing centre display.
Expanding ranges in Sea & predator, as well as everything for your Carp, Course & Match needs.
A choice of 12 Different Blast Frozen dead baits.
Knowledgeable, friendly staff who will help you find what you need at competitive prices.If we don't have what you require in store we will always do our best to source you exactly what you need.
Located in Newhaven, Avis Way Industrial Estate, behind HPS
BN9 0DU – 01273 933050
Welcome to The Bait Bucket Tackle Warehouse
Our Best Sellers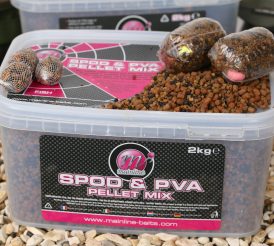 MAINLINE BAITS SPOD & PVA PELLET
The Spod & PVA Pellet Mix is a unique pellet blend ...
View Product